PROJECT DETAILS
Contract Type
Design & Build Turnkey
Completion Date
January 2014
Construction Area
34,572 m2
Architect
ACP Architectural & Engineering, Moscow
Completion Date of Design
August 2012
SELİM BORA
President
"In a lifetime of a construction company many projects are being realised in different size and complexities but only few projects are considered to be monumental. This is the situation in our case with the "Bogatyr Hotel" project: a real monument.
In May 2012 when the contract was signed with Sochi Park, we were sure about the beauty of the building even before constructing it and the affect it would create in the view of the visitors.

The aim of building such an iconic project was not only for a purpose to create a temporary hotel for 2014 Sochi Winter Olympics of Russian Federation but also to make sure to realise a feasible and unforgettable building which would stay in the memories of those who shall visit.

Feeling the time pressure and responsibility over our shoulders we undertook the task and managed to deliver this beautiful 290 keys "design and build hotel project" on turn-key basis in October 2013. In less than 18 months of construction execution time we managed to finish the project and made sure to host its first guests by February 2014 Sochi Winter Olympics.


On behalf of Summa Board of Directors, I hereby would like to take this opportunity to thank, our project manager Eng. Mehmet Ünüvar and his deputy Eng. Erdem Arıkan for their continuous dedication, outstanding efforts and patience against all odds such as; severe floods, administrative and technical difficulties, architectural complexity of the project and all uncommon procedures, conditions specific for the Olympics. I also would like to thank our client "Sochi Park" executives for supporting us during most difficult days of construction.


I wish this monumental building will host many important guests from all over the world and unforgettable events and I wish that god bless every single individual who has contributed the realization of this iconic project. ''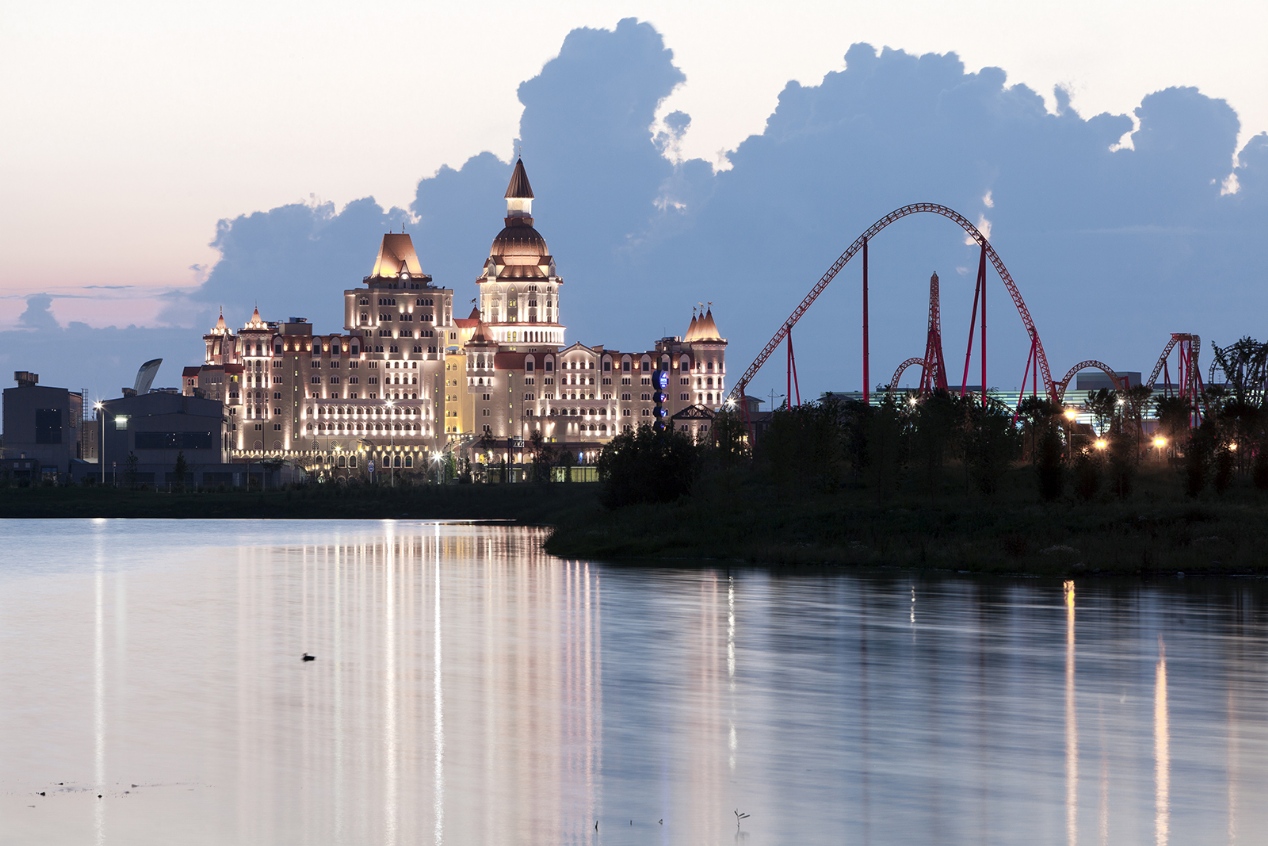 INTRODUCTION
Founded by the Honorary President Mr. Mete Bora and presently managed by the Chairman of the Board of Directors Mr. Selim Bora, Summa Turizm Yatirimciligi A.S. was established in 1989 in Ankara to undertake international construction projects as General Contractor. The company started its construction activities abroad in 1990 with a "Gara Altin" Presidential Guest House Project in Ashgabat, the capital of Turkmenistan, which was completed in less than 11 months period. Throughout 25 years of its operation, Summa has successfully completed more than 70 turn-key projects in 8 different countries and delivered more than 1 million m2 of closed area.
http://
www.summa.com.tr
Being currently active in
Russia, Libya, Romania, Moldova, Venezuela, Equatorial Guinea, Senegal and Turkey
in construction, engineering and investment fields, Summa has gained international recognition especially in construction of administrative buildings, housing projects, hospitals, hotels, shopping malls, airports, stadiums, congress halls and high-rise buildings. Thanks to this the company ranks among the
"Top 225 International Contractors"
according to the
"Engineering News- Record"
Magazine for the last 10 years.
Summa employs more than 3500 employees including more than 150 engineers and executive personnel in the countries of its operation and their construction sites. Operating in compliance with international standards both in Head Quarters, representative offices abroad and construction sites, Summa is an international construction company, which takes part in ambitious projects and possesses ISO 9001-2000 Quality Management System Certificate.
Customers always appreciated the Company due to its successful operation in harsh geographical and climate conditions. Some of the examples are
"Tuymaada Olympic Stadium"
constructed in the record period of 9 months in Siberia in 50 degrees below zero Celsius,
"Bulayla Twin Towers"
, the tallest building in Northern Africa, constructed in Libya in 40 degrees above zero Celsius and the Headquarters of UralSibBank, the tallest building in the Ural region. Moreover, the
"Festival Shopping Mall"
project constructed in Moscow received the Most Popular Shopping Mall award in the year 2006, whereas the
"Emerald Residences"
project in the capital of Romania, Bucharest, received the Best Residential Development award in the year 2009. In 2013 ENR awarded the Company with Global Best Project award in the cultural category because of the successful completion of SIPOPO Congress Center in Malabo.
Summa also acts as an investor and develops several
real estate, hotel, hospital and shopping mall projects
in Romania, Moldova and Libya. Moreover, the company became an example model of cooperation with international financial institutions in this field. At the moment Summa is working on the investment project of construction of 90 MW capacity Wind Farm, as an alternative renewable energy source as well as searching for opportunities in exploration and production in oil and gas field.
For the last 6 years the Prime Minister Recep Tayyip Erdogan has been awarding Summa with Certificate of Achievement in Construction Field. The Prime Minister also took part in the opening ceremony of
700 bed capacity "Radisson Al Mahary Hotel"
in Tripoli held on 23 of November 2009, which was titled as the first Turkish investment project in Libya.
Being aware of its social responsibilities, Summa founded the non- profitable Akyurt Foundation and the home for the elderly "Akyurt Yasamevi" in the Akyurt region of Ankara with the purpose of providing better living standards for seniors. The home for the elderly currently provides services for more than 100 seniors over the age of 55. The aim of the Akyurt Foundation is to spread such homes for the elderly throughout Turkey.
http://
www.akyurtvakfi.org.tr

Summa ranks in the list of "1000 Largest Turkish Export Firms" and intends to undertake new projects in Northern and Central Africa and Gulf states in the next coming years.

ARCHITECT'S WORD
ACP Architectural-engineering company LLC (Moscow), together with Oncuoglu Mimarlik company (Ankara-Turkey) developed project documentation of Bogatyr Thematic Complex as a part of Thematic Park, situated in Krasnodar Krai, Sochi, Adler region, Imeretinskaya. The scheme design was developed by Kolbekker Architects and Engineers LLC, which took as a base the concept of Thematic Park Project that was made by Maxmarkers Ltd.
Construction site is located in Olympic Park territory, and the general plan scheme of the project considered as a part of the Thematic Park, bordered by 'Urbanistica Russian R&D Institute' Federal State Unitary Enterprise, with use of general plan made by Speech LLC.

The area of the project site is 2.659 hectare, with the 6854 m2 building area, and the remaining part designed as recreation and pedestrian zones. There
is an open swimming pool, and a set of necessary connection roads and pass ways to the buildings for visitors, as also for service cars, light and heavy load vehicles, bus stations and access of fire-fighting teams in accordance with current norms. The building is oriented with its short facades towards north and south, and with its long facades – towards east and west directions. Project site is adjacent to with Adventure Park on the east.
The entrance hall has a shape of a cross, thus providing the access to the atrium and the lobby from all the parts of the building.
Main entrance for visitors of the complex is on the north side of the building, arrival of buses and VIP-clients is organized on the west side of the building. Clients using their own cars can use an open car park placed on the south. The capacity of the parking area is 132 cars. For delivery and loading services there is a hidden warehouse, placed inside the hotel. Access of touristic transport to the main entrance is provided from the west side, by an open ramp with a turning circle area in front of the entrance.
The architectural concept of the project is thought to realise a medieval castle style. As a result of the process of evaluation and follow-up revisions, the design projects gain eclectic properties, and the appearance of the building includes all features of central and north Europe castles, with many historical details. The fundamental criteria of the concept were the idea of a wedding cake, symbolising a new couple – the King and the Queen. The King tower is stocky and solid. It features power and brutality, and at the same time the tower is confident and steady. The Queen tower, in its turn, vice-versa, is slim and light, and has smooth-lined and complete shapes. The towers are designed to be rememberable symbols, the silhouette of the project. On the east side of the building, there was one more tower in the preliminary projects, so-called Jester Tower, which, unfortunately was not constructed due to change order by client. There is an additional building on the west, called Knight Building, which is thought to serve handicapped visitors.

The main building consists of two rectangular blocks with guest-rooms on their perimeters, creating the atrium and galleries. There are administrative, service, store and personal service rooms, delivery service, kitchen and SPA complex with swimming pool, placed on -4.30 and 0.00 elevations. On the 0.00 elevation, there are main entrances of the building, connected with lobby atrium, reception with all kinds of service, and a big multi-functional hall, which can be used for conferences, presentations, and kinds of entertainment activities.
General guest-room number – 290.
Room types are:
- Quadriple Standard –studio room, two-bedded or with two single beds, sanitary unit, shower unit, fridge, air conditioner, TV, Wi-Fi, phone, as an auxiliary option – association of two rooms in two large family rooms.
- Superior – family single room, double bed (two single beds), with a two- tier children bed, sanitary unit, shower unit, TV, minibar, air conditioner, Wi-Fi, phone, safe deposit box.
- Suit – two-roomed, double bed, or two single beds, sanitary unit, shower unit, TV, safe deposit box, minibar, soft furniture, air conditioner, Wi-Fi, phone. Located in the Queen Tower.
- Queen Suit – two-roomed, double bed, TV, sanitary unit, bath, hairdryer, safe deposit box, minibar, soft furniture, air conditioner, Wi-Fi, phone. Located on 11th floor of the Queen Tower
The hotel provides the following infrastructural options:
- SPA, Russian bath, sauna bath, hamam, roofed swimming pool, massage.
- Beauty salon
- Fitness center
- Swimming pools
- Business center
- Boutiques, 2 restaurants
- Lido-bar
- Lobby-bar
- King and Jester Night Club
- Swiss Club
- Carrousel Child Club
- Conference arrangement
- Parking
- Laundry and dry-cleaner
- Baggage room
- Conference services:
- Georgievskiy Conference Hall (456m2), 450 people capacity
- Petrovskiy Conference Hall (130m2), 100 people capacity
- Vladimirskiy, Andreevskiy, Nikolaevskiy Meeting Rooms (60m2), 15 -40 people capacity of each
- Alexandrovskiy VIP-Hall, 12 people capacity.

Interior design projects are done by AM Arwest LLC, in full conformity with the medieval castle idea. Taking into account the difficulties related with re-planning and design of the project, and the effect of seismicity, the structure of project is assumed as a reinforced concrete framework with antique-style decorative coverage. This unique project is a multi-functional building, and there is no similar constructed analogue in Russia. As the project has individual aspects, there are no definitions especially for this type of buildings in specifications and norms of Russian like fire suppressing system and constructional issues, for which Special Technical Specifications were developed.
In addition to technical difficulties, the hotel management operators demanded special technical specifications, that constrained design and construction capability. Despite of recordly short time periods of design and construction phases, due to well-coordinated activities of Olympstroy State Enterprise, Sochi- Park OJC, Technical Employer and all the participants of the construction, a unique project has appeared, which doesn't have analogue in its region, and in the whole country. The project, that can be a matter of pride for all its construction participants, took its rightful place on the background of XXII Winter Olympic Games in Sochi.