PROJECT DETAILS
Client
Ultimate Concepts Limited
Contract
Design & Build Turnkey
Construction Area
81,044 m2
Completion Date
April 2016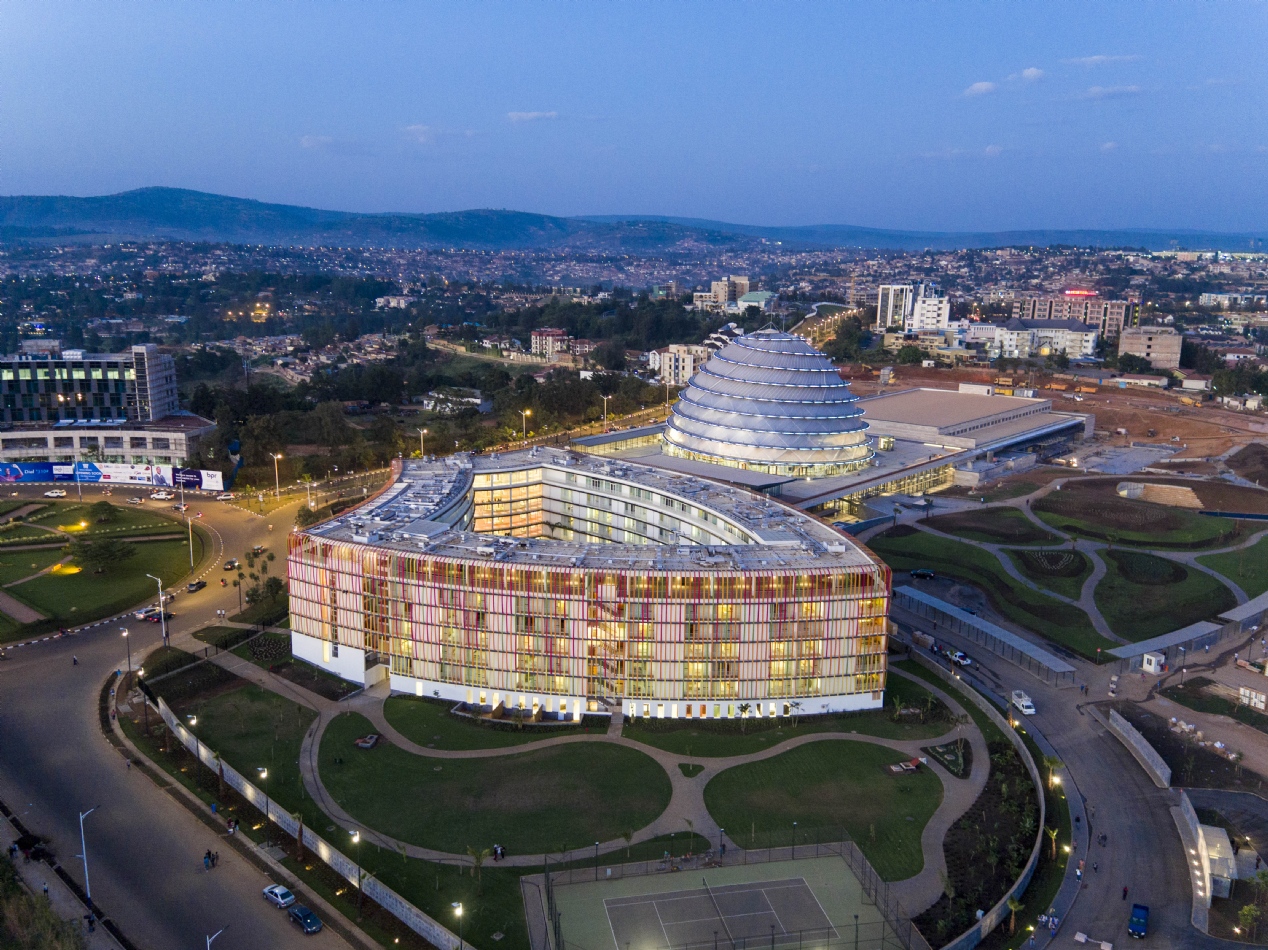 INTRODUCTION
Having an internationally recognized experience in fast track delivery of Congress Centers and high end buildings in Africa attracted attention of many Heads of States who are desiring to have similar projects built in their countries and Rwanda happened to be the next one. Beginning of 2015 we happened to know about Kigali Congress Center Project and knowing that construction activities had already been going on for almost four years we tried to understand what exactly the status of the project was.
In order to find out more about the project we decided to fly to Kigali to make proper observations and relevant meetings. Prior to our departure we made some search and found out that construction activities were going on for longer time than it usually requires. Nevertheless it was important to visit the site and make an assessment in place.
Knowing Summa's capabilities prior to our visit Rwandan Authorities have asked us whether we could advise the Government of Rwanda regarding how to accelerate this project to a completion. Upon seeing the project and studying related documentation we have submitted a technical and commercial within four weeks. Rwandan Authorities were highly surprised to see that we committed ourselves to take over the project and finish on a turnkey basis within 11 months. Being exhausted about extremely long duration and non-completion of the project made Rwandan Authorities to seriously consider our offer. On 16 April 2015 Rwandan Government took a very radical decision by signing the contract with us and replacing previous contractor with Summa.
Today is 25th of May, 2016 and the project is completed as we promised. We are glad to demonstrate another successful completion of a highly important project, in a highly important country of Africa, Rwanda. Again we would like to thank to Rwandan Authorities, local work force, local subcontractors and material suppliers as well as all other Turkish and international partners to make this project happened. We wish that this project brings prosperity to the People of Rwanda and become a symbol of emerging Africa.
Selim Bora, President
ABOUT KIGALI CONVENTION CENTER
Midland of East Africa, Rwanda keeps pushing hard to create business environment and peaceful meeting point for international level Clients.
Kigali Convention Center Project, had been envisaged in 2007 and granted to a different Contractor in 2008. After 7 long years of low progress and everdelaying finish date; at a questionable 50-something percent completion rate, the project was handed over to SUMMA in May-2015, to be finished within 11 months including testing and commissioning.
Kigali Convention Center is composed of a Convention Center and its supportive facilities and 5 Star Hotel with 292 keys. Main Convention Building has a very distinctive translucent dome, consists of 13 meeting rooms, food and beverage facilities, 3 restaurants, several kitchens and all supporting areas. Both the Dome, traditional hut shaped, and the Hotel Building, rush matlike façade, is inspired by local traditional figures. Similarly, landscaping is done to match the "thousandhill"Kigali natural landscape.
Main Meeting Hall, capable of hosting 2400 people, is furnished with latest technology to catch the long-term goals of the government and end users. Supportive meeting rooms having different sizes and configurations enables any operator to address every need of potential Clients.
Backed up by a 5-star hotel, several restaurants, 3 in Convention Center, 1 in Hotel, and best location in the city, Kigali Convention Center completed in 11 months will be a game changer for hard working people of Rwanda and its Government.
There were two different challenging terms of the project. First was to investigate and find out hidden and obvious defects (some was very surprising such as stainless steel pipes and ventilation ducts were partially rusted) and to find spare parts-additional materials which would not create any problem to be used in conjunction with the old ones. Second challenge was to catch up with the timeline as the investigation-order placing (mostly requiring another visit by the supplier to the site)-production and transportation (which takes about 60 days from any western port) did consume most of the project duration.
Similar to other projects of Summa, this project had two major teams, headquarters team and site team. Former, being in İstanbul, Turkey, was responsible from design, master planning, purchase and manufacturing of materials, assignment of subcontractors for workmanship and all logistics (transport, customs clearance etc.) and latter was responsible for site planning and construction works.
Throughout the construction of the Kigali Convention Center Project a total of 3.1 million man-hour is spent by workers. The construction site has employed an average of 400 Turkish and 800 Rwandese and other country origin workers on the average per month. For the last 3 months of the project, the site team reached the number of 2000 people, about 1400 of them being local, and 600 of them being Turkish. One big family from several different countries, to beat unlucky past of a project... There was a distinctive steel erection within the project worthwhile to mention. The main dome structure, closed envelope,
fully woven by steel elements had to get a new slab, diameter of 52 meters, lowest point at 13 meters above finished floor level, self-standing on perimeter columns, without any middle column. The result was thousands of small parts, sever- al calculations, and custom made lifting solutions without touching the existing steel structure. The result is 450 tons of steel, 2600 tons of concrete (plus several acoustical insulations) cast over.
Main congress building has a dome, inspired by traditional housing hut (but more than 60 meters in diameter and 46 meters in height) does look magnificent from a distance with its translucent façade. In the night time, enhanced by RGB light plays as well as linear led lights all along the surface of egg-shaped dome; it definitely became the landmark that the city has looked for.
Under the dome; where the main conference room exists, there was a major design addition by Summa; as a brand new 450 tons of steel slab was introduced within an already finished building to create additional spaces for different needs; and to facilitate proper meeting environment by means of light and sound control which were all problematic in the original design. As almost allonsite productions were started (but none finished) by previous Contractor, the task is defined as both correcting the mistakes and even to demolish and build again if any doubt appears for the safety and functionality.
Several different natural stone materials had to be selected to give the overall quality feeling, and proper shading, lighting and color trials were made to catch the architectural expectations.
Support functions for both hotel and the convention are merged under the convention building, connected (underground and over ground) to every part of the complex to create accessibility for the personnel.
Hotel, inspired by the rush mat-looking surface does not deter the view of the dome, instead it plays the role of a proper side-kick to the super hero. It gives all the support that was expected; and serves the convention center.
The sustainability requirements of 21st century is very well applied in this project; contributing the functionality of the project. A separate technical building area serving whole buildings; with a sewage treatment; a group of cogen generators (using generator heat for hot water creation, and for cooling
system compressors) and rainwater collection for watering the land at dry times do exist within the premises. Energy saving; feasible operation-ability; high level of self-sustainability aspects are also worthwhile to mention.
Kigali Convention Center had been designed for realization of multi-purpose activities and events, to create a landmark for ever-growing economy of Rwanda. Previously, despite limited number of facilities, Rwanda managed to attract several organizations.
Even before completion of the Project there was a long line-up of events, one of which being African Union Summit of 2016. This level of importance had a direct impact on material selections and workmanship quality.
At the end of the day, this project; functions as a "Pride" and "Proof" of this country's ability to "Perform" no matter how big/many difficulties they have faced with.